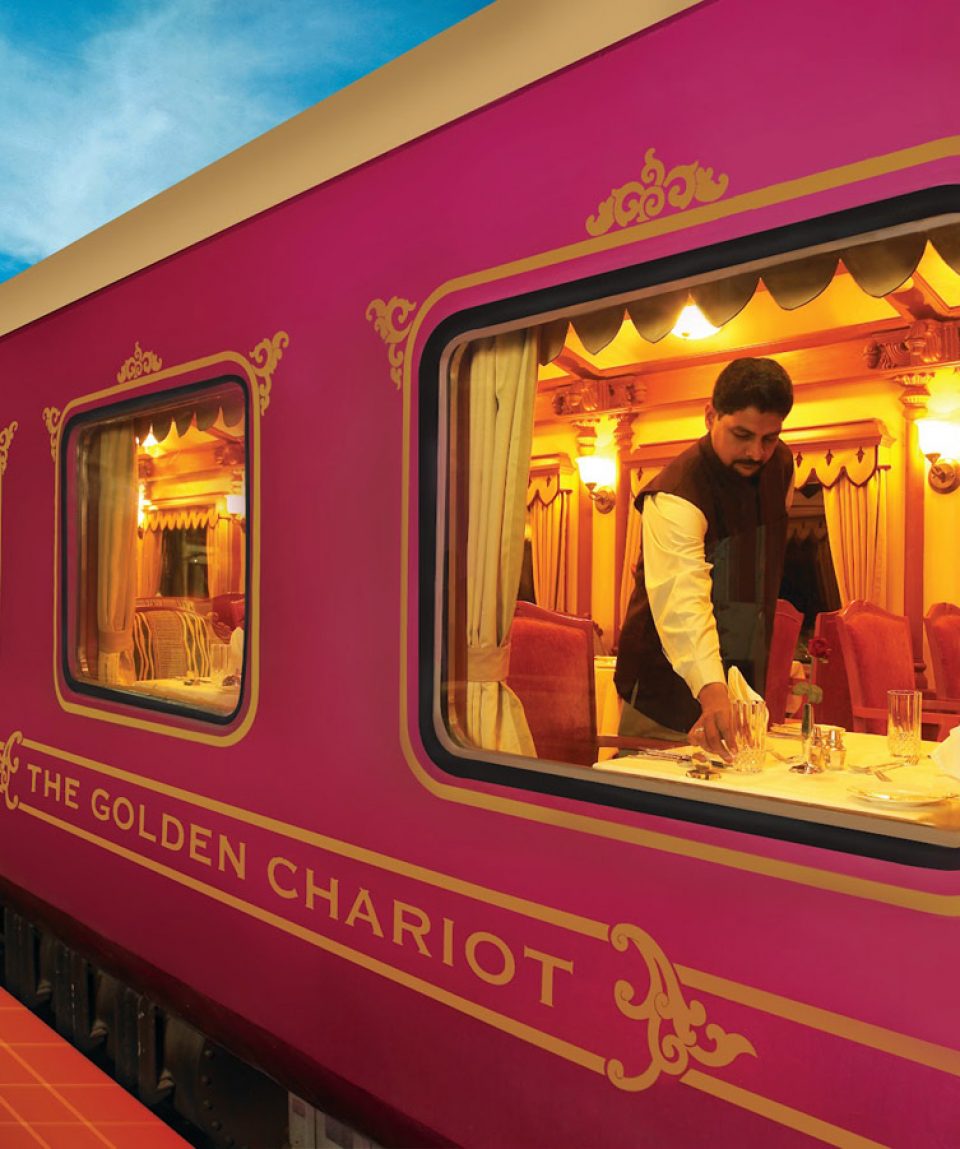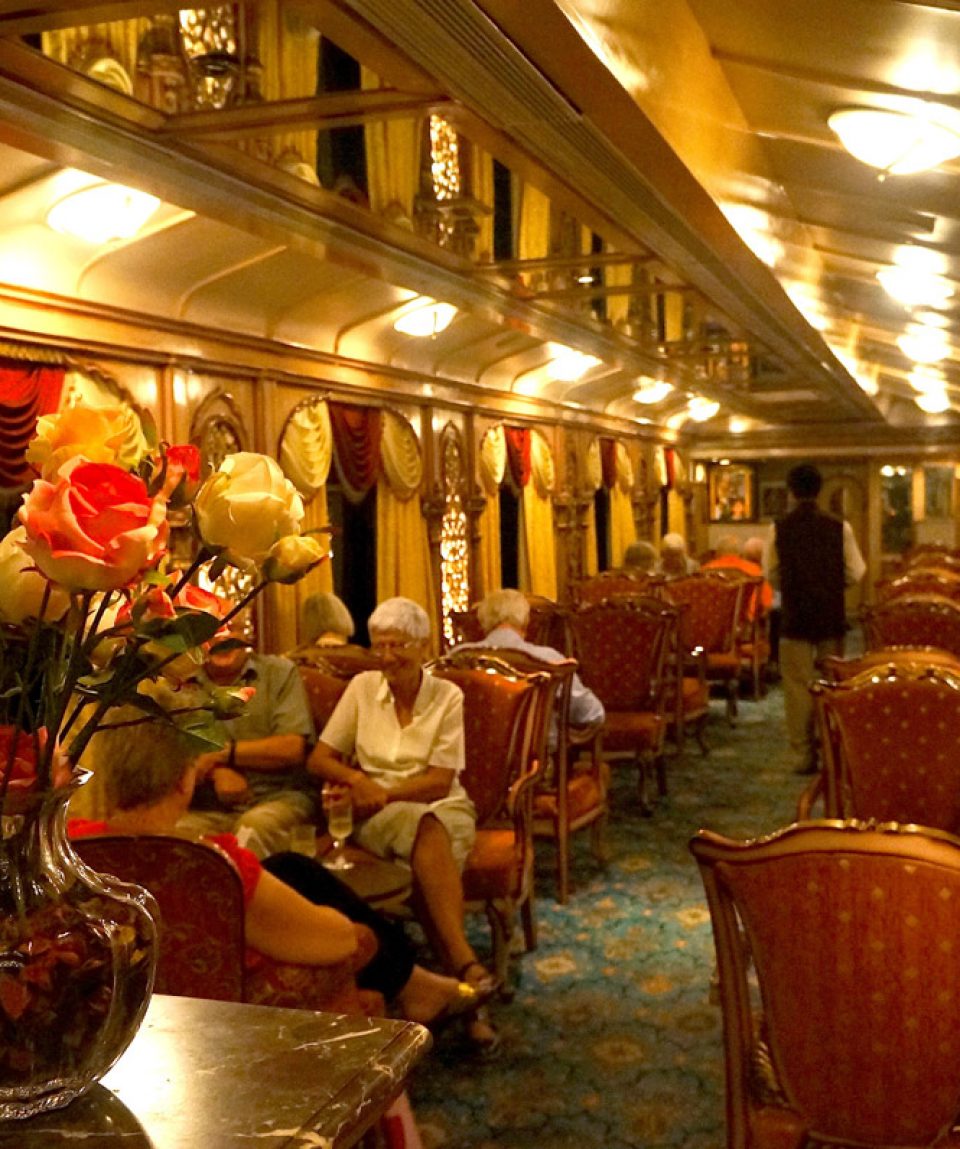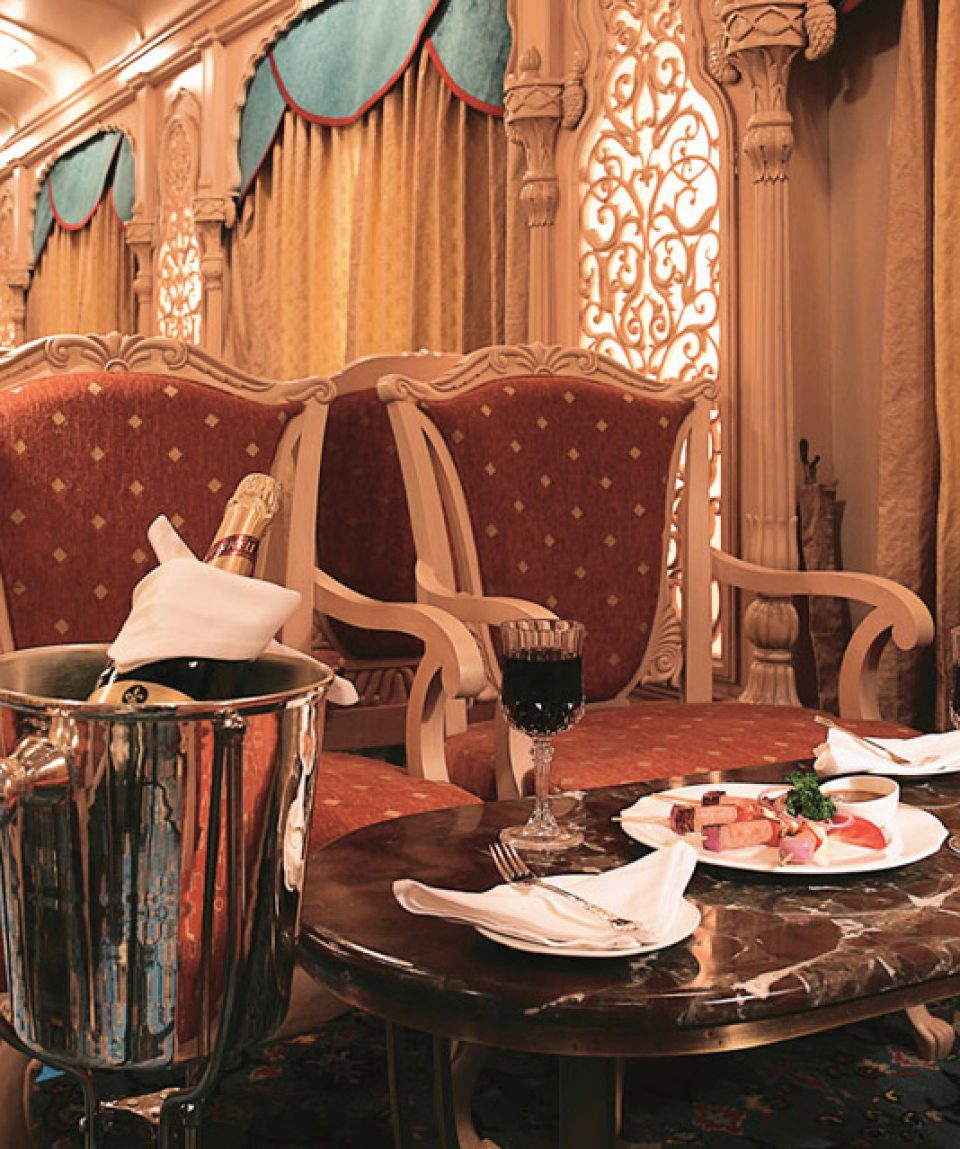 The Golden Chariot (Southern Splendour)
from Contact Us
Delve deeper into the heady mix that is the South of India. Discover its awe inspiring vibrancy and variety.
Vacation Style Holiday Type
All about the The Golden Chariot (Southern Splendour).
Duration: 7 Nights / 8 Days
Destinations Covered: Bangalore – Chennai – Mahabalipuram – Pondicherry – Tanjavur – Madurai – Nagercoil (Kanyakumari) – Alleppey – Kochi
Southern Splendor is another grand way of traversing across the colorful and culturally vibrant southern regions of India. Extensively traveling through the length and breadth of Kerala and Tamil Nadu, this luxury train offers 8-day sojourn to its guests. A property of Golden Chariot, a luxury train in India that has so far introduced the various cities of Karnataka to a thousand guests in a never before way, Southern Splendor promises to be no less spectacular and fascinating. Come board this enchanting sojourn and relive the glory of India, yet another time.
Highlights of Tour :
Auroville Ashram: A huge complex, in fact a city where you can meditate, shop or join workshops. And to make the most of it, you can visit the iconic Matri Mandri.
Brihadeshwara temple: A justified World Heritage Site with stunning triangular roof-tops embedded with beautiful carving.
Srirangam temple: This does not just have 'Rang' in its own name but the beautiful color scheme of this temple soothes the sight.
1000 pillars temple: a beautiful temple dedicated to Lord Shiva, Lord Vishnu and Lord Surya.
Allepey houseboat: Cruise in the house boat as the babbles of splashes sparkle your journey.
Golden Chariot Train Tour Schedule 2018-19 Season
7 Nights Southern Splendour Circuit Of Golden Chariot Train
Month
Depart Date Ex Bangalore (on Monday Afternoon)
Oct 2018
22
Nov 2018
05,26
Dec 2018
31*
Jan 2019
21
Feb 2019
04,25
March 2019
Nil
The tour package Mapping at a glance
Whats not included in this tour.
Items that are not included in the cost of tour price.
Inclusions:
Accommodation in double / twin bedded cabins with attached bathrooms.
All meals, soft beverages, house brands of Indian wines, beer and spirits
Butler service, complimentary tea, coffee and mineral water on board
Guided off train tours as included in the journeys inclusive of entrance fees, still camera fee, transport and services of a guide
Porter charges at stations
Exclusions:
Any optional tours as mentioned in the itinerary.
Taxes, insurance, gratuities, telephone calls, laundry
Alcoholic beverages (apart from the house brands)
Video, film and professional still camera fees and arrival and departure transfers
International and domestic air tickets
Pre and post tour accommodation
Any tour extensions unless specifically mentioned as part of the journeys
Day 1

Bangalore

| | |
| --- | --- |
| 3.00pm | Self report and Registration at Taj West End |
| 4.00pm | Nature walk in the heritage gardens of the Taj |
| 5.00pm | Hi-Tea |
| 5.30pm | Presentation and Orientation on The Golden Chariot tour |
| 6.00pm | Cultural Show |
| 6.45pm | Visit the ISKCON Temple (The International Society for Krishna Consciousness) |
| 8.15pm | Traditional welcome at Yeshwanthpur railway station and board The Golden Chariot |

Bangalore: A World of Opportunity

The capital of Karnataka is known as the Garden City because of its salubrious climate and greenery. Perched 3,250 feet above sea level, temperatures seldom exceed 30oC (88oF). Founded by Kempegowda, a powerful chieftain, the city is unique with its rich cultural heritage that coexists with its modern day technological and industrial achievements. Today Bangalore is popularly known as India's Silicon Valley.

Day 2

Chennai - Mahabalipuram

7:30am:
Arrive at Chennai central railway station
8:00am:
Breakfast on board The Golden Chariot
10.00am:
Departure to Mamallapuram
11.30am:
Arrive at Mamallapuram Sight Seeing Krishna's Butter Ball,
Arjuna's Penance, Ganesha Temple and Caves and Five Rathas Temple
1.30pm:
Lunch at Radisson Blu Temple Bay Hotel
4:00pm:
Post Hi-Tea, Sight Seeing
5:00pm:
Departure to Puducherry
6:30pm:
Arrival at Puducherry, back on board The Golden Chariot. Dinner
on board The Golden Chariot

Day 3

Pondicherry

8:00 am:
Breakfast on board The Golden Chariot
10:00 am:
Departure to Auroville Ashram – Sight Seeing – Screening on Auroville
Ashram, tour of Auroville Asharam, Matra Mandir and shopping in the Ashram
1.30 pm:
Lunch at The Sarovar Promenade Hotel
3.30 pm:
Back on board The Golden Chariot
5.00 pm:
Visit the Aurobindo Ashram and Ganesha Temple
5:30 pm:
Onwards Stroll by the beach side and shopping in French town
7:00 pm:
Back on board The Golden Chariot – Dinner on board The Golden
Chariot

Day 4

Tanjavur - Trichy

| | |
| --- | --- |
| 7:30 am: | Arrive at Tanjavur railway station |
| 8:00 am: | Breakfast on board The Golden Chariot |
| 10:00 am: | Visit the famous Brihadeshwara Temple (UNESCO World Heritage site) |
| 11:30 am: | Visit the Serfoji Maratha Palace and Bronze Art Gallery Shopping at the emporium |
| 2:00 pm: | Lunch at Ideal River View Resort |
| 4:00 pm: | Departure to Trichy |
| 6:00 pm: | Visit the famous Sri Rangam Temple in Trichy |
| 7:30 pm: | Back on board The Golden Chariot in Trichy – Dinner on board The Golden Chariot |

Day 5

Madurai

| | |
| --- | --- |
| 8:00 am: | Breakfast on board The Golden Chariot |
| 10:00 am: | Visit the famous Madurai Meenakshi Sundareswarar Temple |
| 11:30 am: | Visit the 1000 pillar temple and the museum |
| 1:00 pm: | Back on board The Golden Chariot – Lunch on board The Golden Chariot |
| 3:00 pm: | Visit the Gandhi Museum (Rani Mangammal Palace) |
| 4:00 pm: | Return back to The Golden Chariot – Rest and Relax on board The Golden Chariot |
| 6:00 pm: | Visit the Thirumalai Nayak Palace for sound and light show |
| 7:30 pm: | Back on board The Golden Chariot – Dinner on board The Golden Chariot |

Day 6

Kanyakumari - Kovalam

| | |
| --- | --- |
| 5:00 am: | Departure to Kanyakumari for Sunrise view |
| 7:30 am: | Back on board Te Golden Chariot – Breakfast on board |
| 9:30 am: | Depart to Padmanabhapuram Wooden Palace |
| 1:00 pm: | Return on board The Golden Chariot – Lunch on board |
| 3:30 pm: | Reach Kocchuveli station |
| 4:00 pm: | Depart to Vivanta by Taj, Kovalam – Hi-Tea by the beach, Cultural show followed by dinner at the hotel |
| 10:30 pm: | Back on board The Golden Chariot |

Day 7

Alleppey

| | |
| --- | --- |
| 8:00 am | Breakfast on board The Golden Chariot |
| 10:00 am | Depart to Alleppey Jetty and board House Boat – Cruise on Punnamada Lake |
| 1:00 pm | Reach Punnamada Lake Resort for Lunch |
| 2:30 pm | Depart to fort Kochi |
| 3:30 pm | Arrival in fort Kochi – Sight Seeing – Chinese fishing Nets, Shopping in Mattancherry – Shopping in Jews Town |
| 6:00 pm | Depart to board The Golden Chariot at Ernakulum South railway Station |
| 7:30 pm | Departure to Bangalore – Dinner on board The Golden Chariot |

Day 8

Bangalore

| | |
| --- | --- |
| 8:00 am | Breakfast on board The Golden Chariot |
| 10:00 am | Arrive at Yeshwanthpur Railway Station, Bangalore – Farewell by the entire crew |