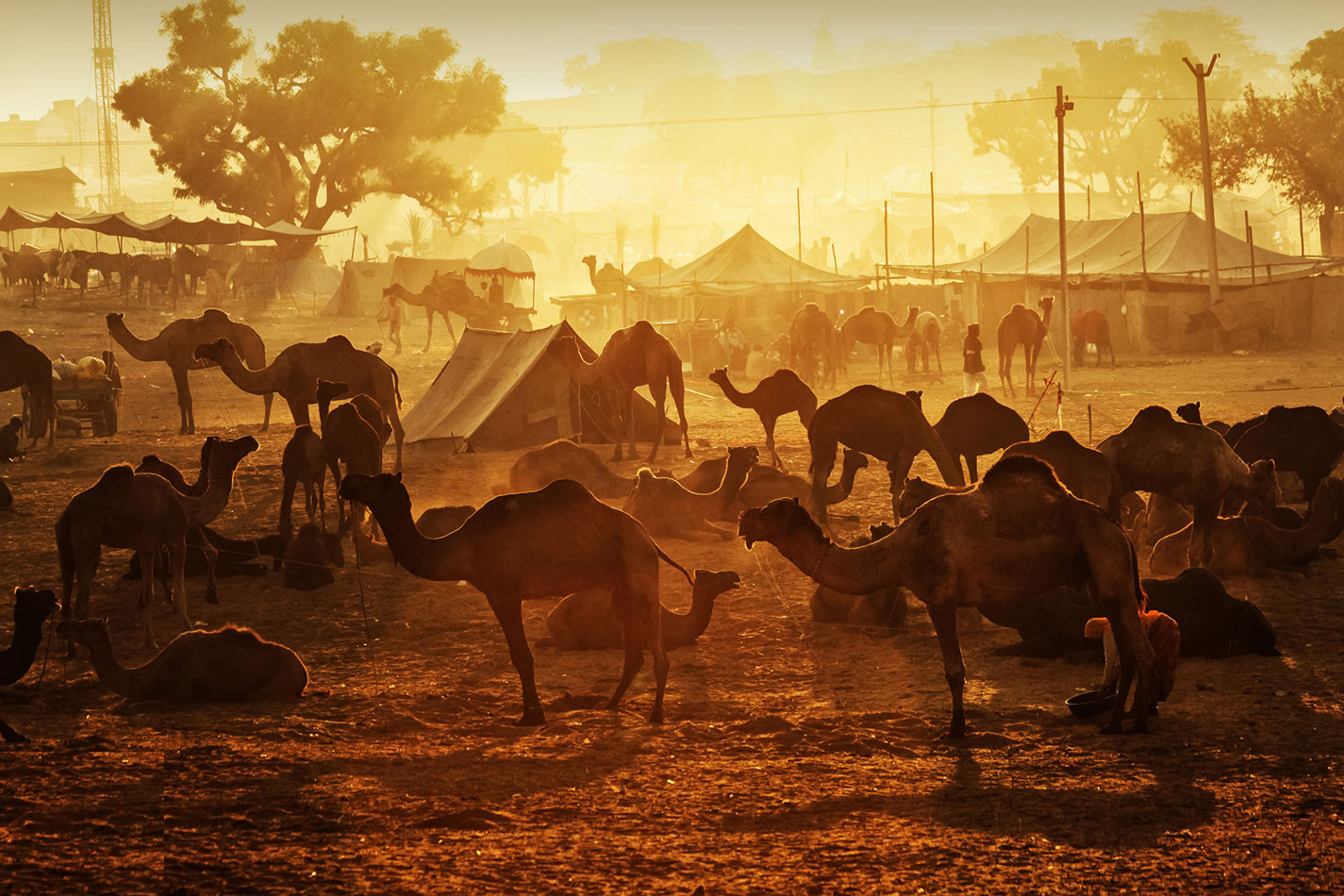 Riveting Rajasthan Tour
from Contact Us
We invite you to experience the magical land, that is Rajasthan. Its heritage, culture, safaris, sand dunes, lush forests and wildlife-makes it nonparallel and truly, an experience to live and breathe.
Vacation Style Holiday Type
All about the Riveting Rajasthan Tour.
Duration: 13 Nights / 14 Days
Location: Delhi – Mandawa – Bikaner – Jaisalmer – Jodhpur – Udaipur – Pushkar – Jaipur – Agra – Delhi
Our Riveting Rajasthan tour takes you on a fascinating journey from sandy desserts to beautiful palaces of Rajasthan. While on the tour, you will enjoy the richness of architectural design as well as some stunning natural sites.
"A Land of Brave Men, Exceptional Tales, Exotic Architecture, Vibrant Culture and Warm Hospitality"
Jaw-dropping forts & havelis; commendable folk music; myriad tales of chivalry and mouth-watering food welcome you to the culturally wealthy state of Rajasthan. The land of turbans, moustaches, ghoonghats and camels, Rajasthan is an unparalleled tourist destination when it comes to culture and heritage tourism in India. Home to famed tigers like Machhali, the desert state also boasts memorable wildlife adventure. Brace yourself for heart-warming hospitality; luxurious stays and unforgettable experiences.
Mandawa – Famous for its forts and havelis
Mandawa is a small town located in the heart of the Shekhawati region of Rajasthan, famous for its distinctive type of forts and havelis. It was once an important social and cultural hub in its heyday.
Bikaner – A Handicraft lover's haven
Bikaner is perfect for handicraft lovers, and two of the most important features of the city are its Usta and Chadwa art forms using floral and geometric patterns.
Jaisalmer – The 'Golden City'
Jaisalmer is known as the "Golden City" because of its beautiful sand dunes, stunning forts, and rich culture and traditions. It is a real juxtaposition of old vs new and it inherited its name from Maharaja Jaisal Singh.
Jodhpur – The 'Sun City'
Jodhpur is known as the "Sun City" because of its sunny weather, as well as the "Blue City" because of the blue houses which can be found near the Mehrangarh Fort, which is a must see. This fascinating city is protected by a 10 km long stone wall. Other attractions include the Umaid Bhavan Palace, the Mandore Gardens, the Jaswant Thada, the Kalyana Lake and Garden, the Ghanta Ghar, Sardar Samand Lake and Masuria Hills.
Ranakpur
Built in the 15th century in milk-white marble, the main temple of Ranakpur, Chaumukha Mandir (Four-Faced Temple), is dedicated to Adinath, the first Jain tirthankar (depicted in the many Buddha-like images in the temple). An incredible feat of Jain devotion, the temple is an intricate series of 29 halls, 80 domes and 1444 individually engraved pillars. The interior is covered in knotted carvings and exude tranquility.
Udaipur – The Venice of the East
Known as "The Venice of the East," Udaipur is a cool oasis in the dry heart of Rajasthan. There are beautiful attractions to see such as the Lake Palace, City Palace, Jagdish Temple, Lake Pichola, Fateh Sagar Lake and Kumbhalgarh Fort.
Pushkar – Home to the world-famous Camel Fair
Pushkar is one of the most ancient cities of India and you can find a rare Brahma Temple here. The Pushkar Lake is also a popular Hindu pilgrimage site and is thought to be created by the tears of Lord Shiva.
Jaipur – The Pink City
Known as the "Pink City of India" due to its distinctive pink and saffron colored buildings, Jaipur, is the largest city in the state of Rajasthan and one of India's most beautiful cities. It was founded in 1727 by the Kachwaha Rajput Ruler Sawai Jaisingh II, who was the ruler of Amber at the time.
Agra – the majesty of the Taj
The magical allure of the Taj Mahal draws tourists to Agra all year round. And despite the hype, it's every bit as good as you've heard. But the Taj is not a stand-alone attraction. The legacy of the Mughal Empire has left a magnificent fort and a liberal sprinkling of fascinating tombs and mausoleums; and there's also fun to be had in the bustling chowks (marketplaces). The downside comes in the form of hordes of rickshaw-wallahs, touts, unofficial guides and souvenir vendors, whose persistence can be infuriating at times.
The tour package Mapping at a glance
Day 1

Arrive Delhi

On arrival, our representative will welcome you at the airport for transfer to your hotel. Overnight at hotel.

Day 2

Delhi

After breakfast, proceed to places of interest in Delhi. You will begin with a visit to Raj Ghat – the cremation ground of Mahatma Gandhi, also known as, Father of the Nation, as well as, President's Palace, the historical India Gate, Sikh Temple and Akshardham Temple.

In the afternoon, you visit the 73 meter tall Qutub Minar, an architectural brilliance which was built around 1500 A.D by Qutub-ud-Din Aibek – a slave turned monarch and Humayun's tomb ; the first garden-tomb on the Indian subcontinent. Overnight at hotel

Day 3

Delhi – Mandawa (256 Kms / 06 hours)

After breakfast, leave for Mandawa and check in your hotel. In the afternoon, explore Mnadawa ; this small 18th-century settlement is still a pleasant base for your haveli explorations.In the evening, you visit the famed arched gateway embellished with the image of Lord Krishna and cows as well as exploring the bazaar (market place) for local trinkets.

Overnight stay at your hotel.

Day 4

Mandawa – Bikaner (195 Kms / 3.5 hours)

After breakfast, drive to Bikaner and check-in at the hotel. Established by RoaBikaji in the year 1488, Bikaner is a vibrant, dust-swirling desert town with a fabulous fort and an energising outpost feel. Transfer to Junagarh Fort, established between the years 1593 to 1588, by King Jai Singh, who was a reputed general in the army of Emperor Akhbar. Overnight at hotel.

Day 5

Bikaner – Jaisalmer (330 Kms / 6 hours)

After breakfast, drive to Jaisalmer, also known as "Golden City".The stunning Jaisalmer Forts one of the popular sites and has many tales to narrate about chivalry and the valour of the Rajput rulers. The narrow streets of the old city conceal magnificent havelis, all carved from the same golden-honey sandstone as the fort – hence Jaisalmer's designation as the Golden City. Overnight at hotel.

Day 6

Jaisalmer

After breakfast, you will start the morning by exploring the striking merchant houses as well as the Havelis. Havelis are all decorated exquisitely and carved out of golden sandstone. The Patwon-ki-haveli is the biggest palace in Jaisalmer. Nathmalji-ki-haveli, an eminent name amidst the well-known Havelis, is worth a visit. Also, visit the Gadisar Lake. Return to your hotel for an overnight hotel stay.

Day 7

Jaisalmer – Jodhpur (285 Kms / 5 hours)

After breakfast, you will drive to Jodhpur. After check in at the hotel, our guide will take you on a tour of Mighty Mehrangarh, the muscular fort that towers over the Blue City of Jodhpur, & is a magnificent spectacle + an architectural masterpiece. In the evening, visit the city of Jodhpur also known as Blue City as many houses are painted in blue! Overnight at your hotel.

Day 8

Jodhpur – Ranakpur – Udaipur (250 Kms / 5 hours)

After breakfast you will drive to Udaipur en-route Ranakpur, to visit world famous Jain Temple known for its magnificent architecture . Over 1444 marble pillars carved in exquisite details support the temple. The beauty is that each pillar is different from each other! Overnight in the hotel.

Day 9

Udaipur

After breakfast, visit Udaipur, also known as the Venice of the East and the "City of Lakes". Proceed for city tour which includes City Palace and Jagdish Temple. Then, drive around Fatehsagar Lake and Sahelion Ki Bari (Garden of the maidens). In the evening, you will go for boat cruise in lake Pichola which is surrounded by splendid hills, palaces, and temples. Make sure you have your camera ready! Overnight at the hotel

Day 10

Udaipur – Pushkar (300 Kms / 5.5 hours)

After breakfast, you will leave for Pushkar; a town in Rajasthan which curls around a holy lake, said to have appeared when Lord Brahma dropped a lotus flower. You will visit the old, rustic temples of Pushkar, specially the Brahma Temple and stroll along the ghats of Pushkar lake. Camel safaris are also present.

Day 11

Pushkar – Jaipur (145 Kms / 3 hours)

After breakfast, you will drive to Jaipur and check in your hotel. Spend the rest of the day at your convenience. Overnight at the hotel.

Day 12

Jaipur

After breakfast, you will visit the top of Amber Fort, but on elephants for a truly regal feel. Later, visit the City Palace, Observatory and Hawa Mahal (Wind Palace). Overnight in Jaipur.

Day 13

Jaipur – Fatehpur Sikri – Agra (235 Kms / 4 hours)

After breakfast, drive to Agra en route visiting Fatehpur Sikri, which was once Mughal capital. Arrive in Agra and rest in your hotel.

Day 14

Agra – Delhi (233 Kms / 4 hours)

After breakfast at the hotel, you will drive to Taj Mahal – a world renowned Monument of love and a UNESCO world heritage site. Taj was built by Shah Jahan, one of the most popular Mughal emperors. Next, you will be accompanied to Agra Fort ; Mughal emperor Akbar's brainchild that employed 4000 workers and took 8 years!

Next, you drive to Delhi. Our representative will meet you and assist you to IGI airport to board your flight for onwards journey.