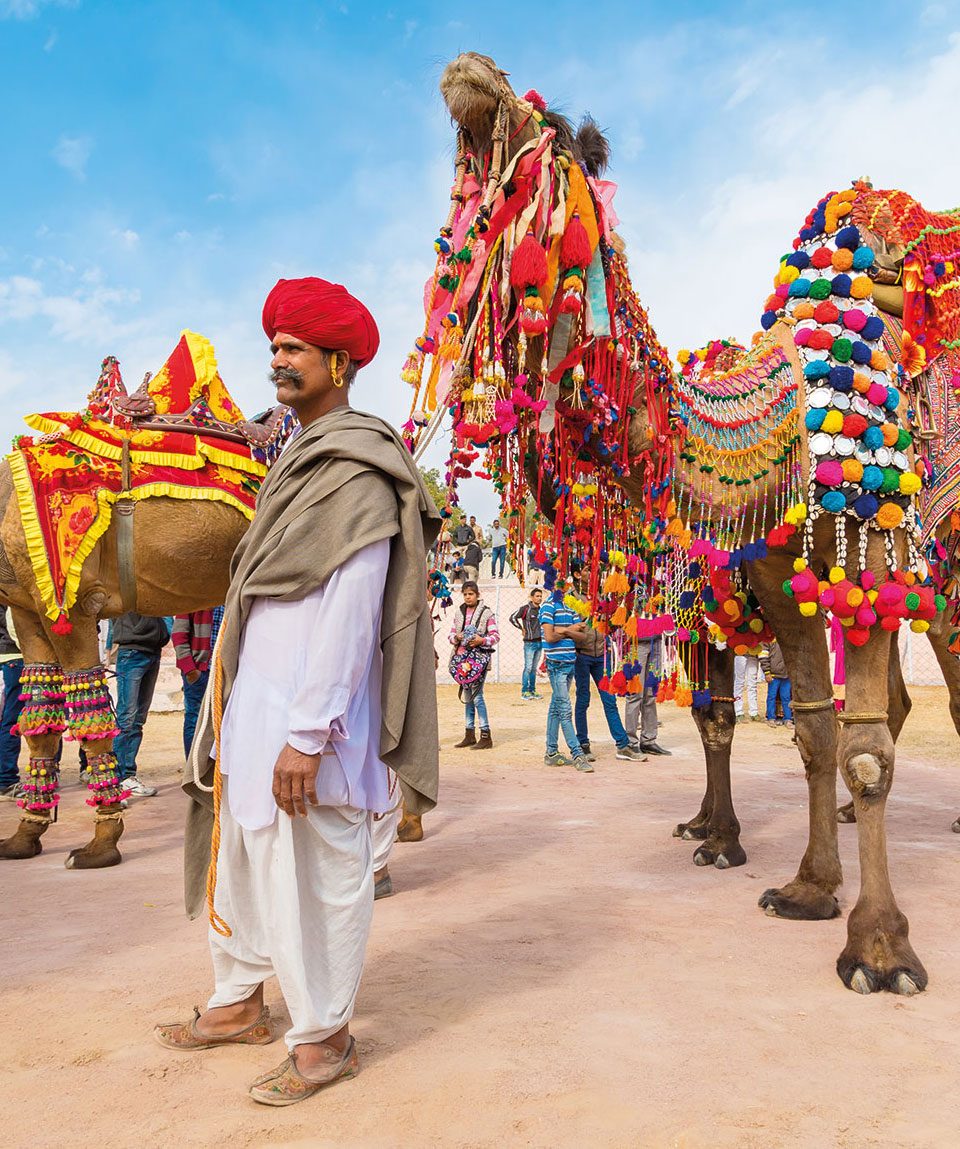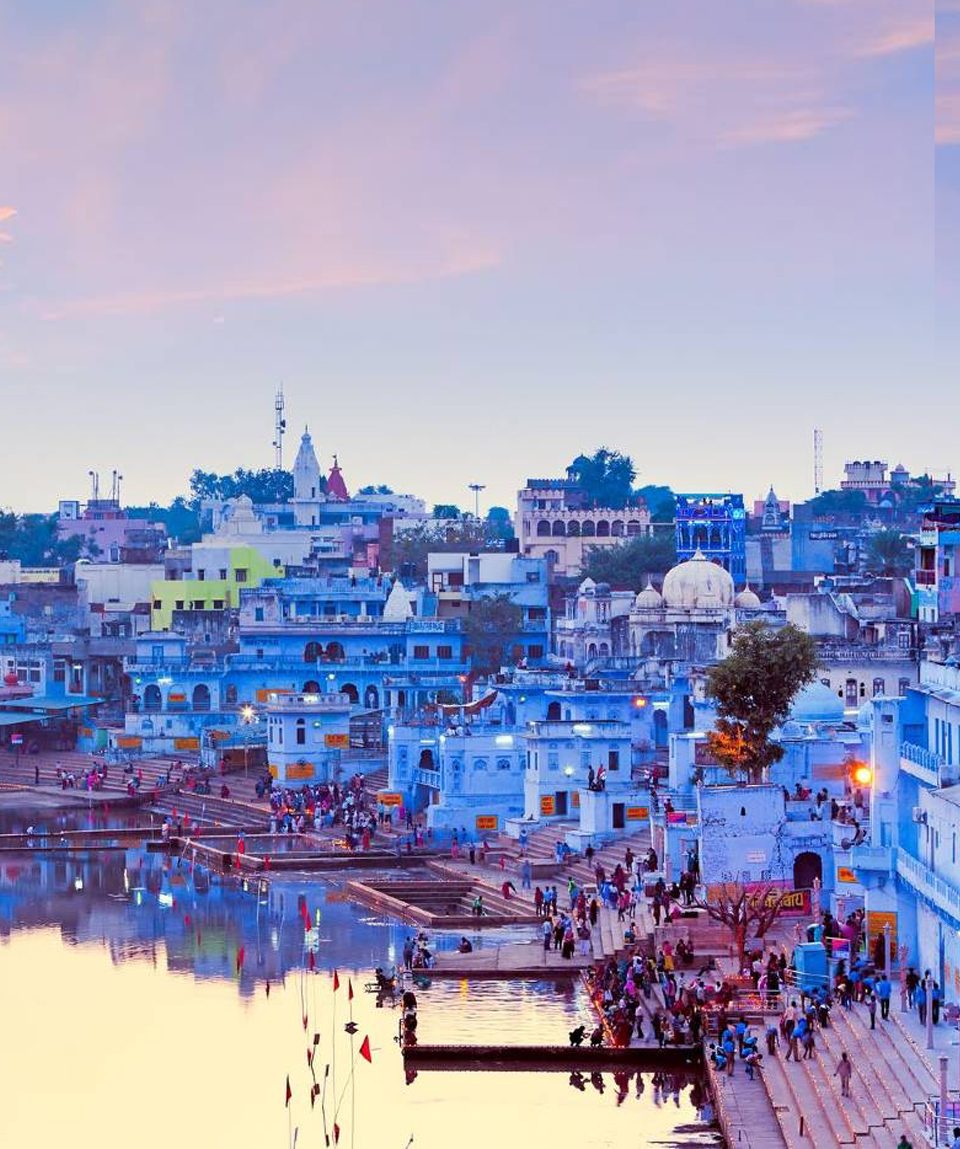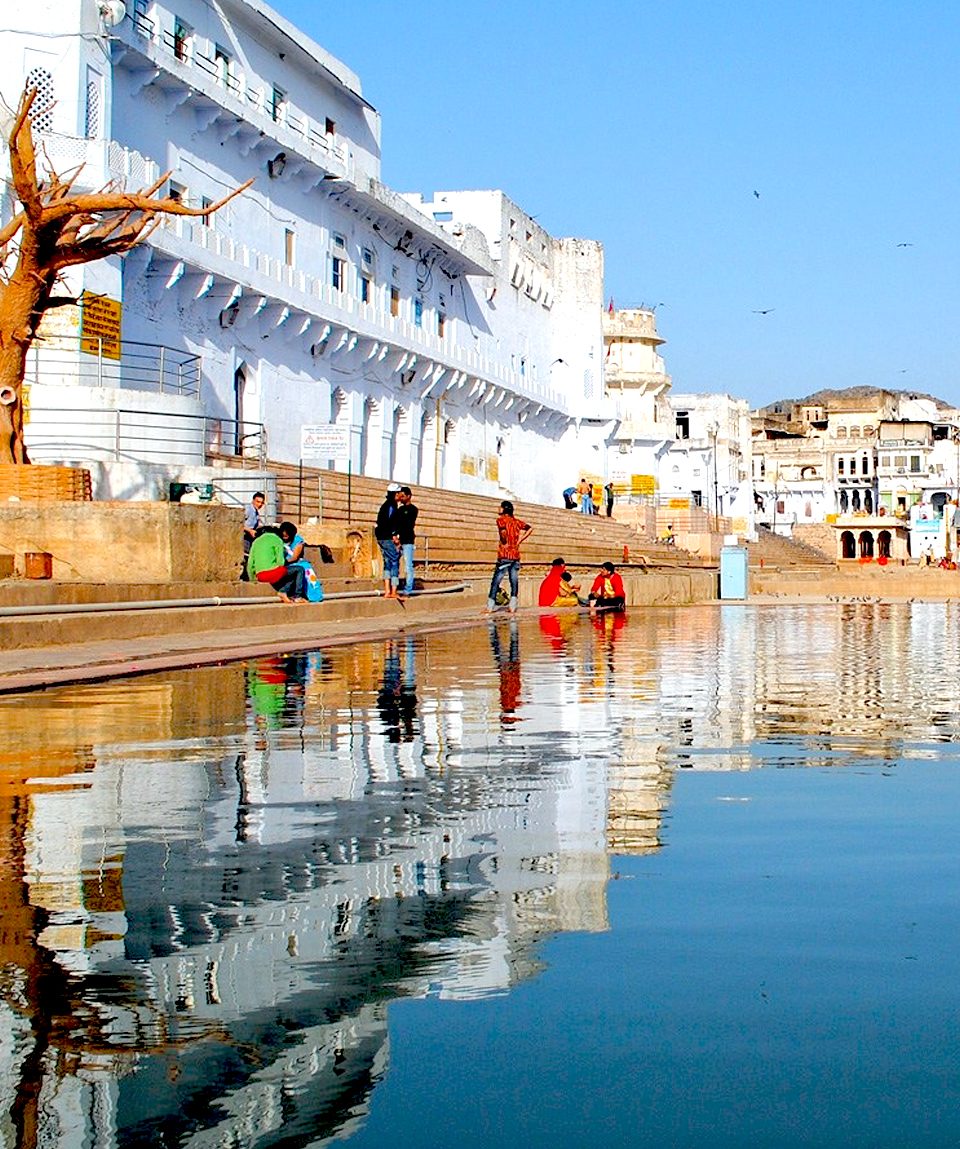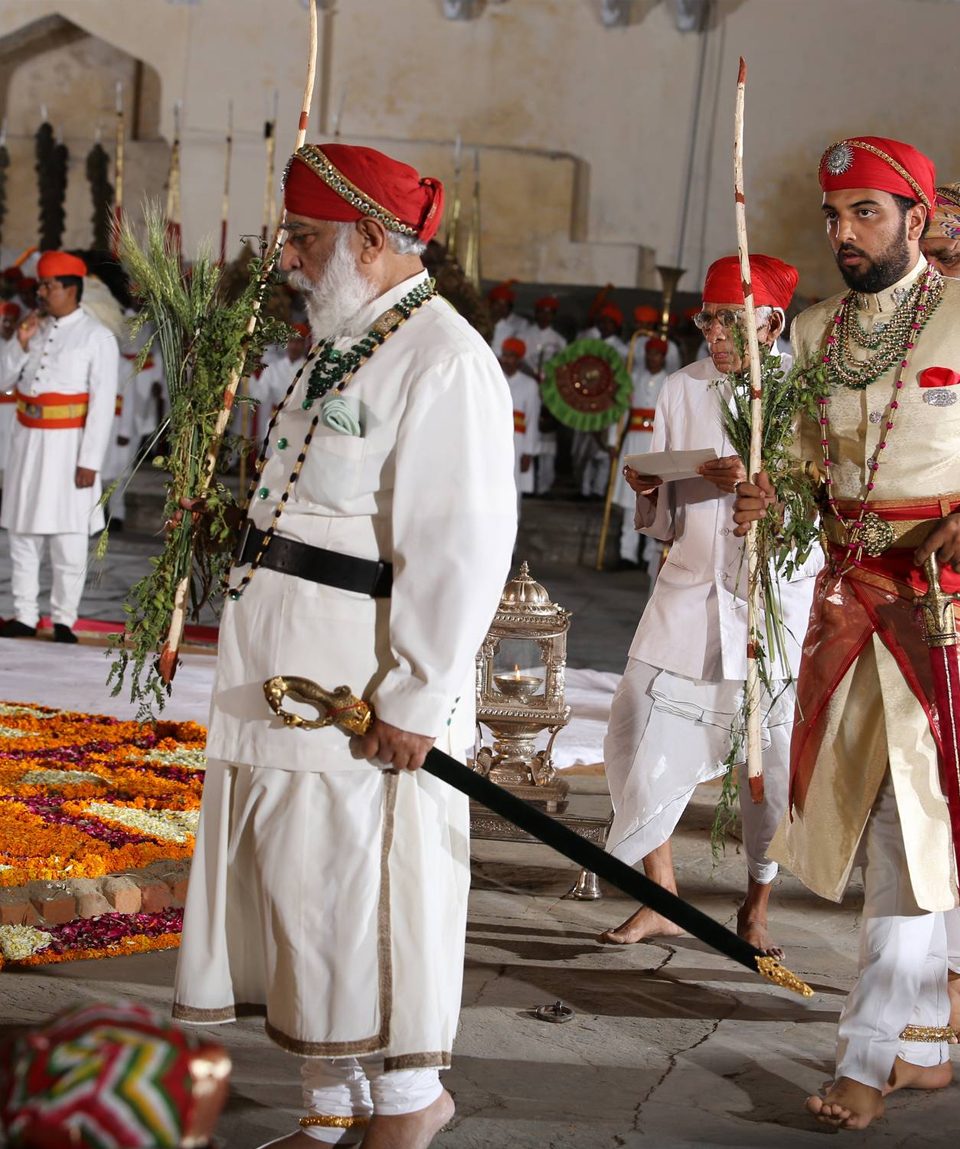 Rajasthan with Pushkar Fair
from Contact Us
Pushkar fair is one of India's largest livestock fair. Pushkar fair is locally known as Pushkar ka Mela. Every year Pushkar Fair starts late October and ends early November. Pushkar fair dates for 2019 is though 4 November 2019 to 12 November 2019. Pushkar Fair tour offers excellent opportunity to enjoy the cultural events and various competitions like bridal competition or the famous longest moustache competition. Pushkar fair also offers an excellent shopping opportunity to buy various traditional handicraft items, fabrics and ornaments.
Minar travels offer the best Pushkar fair tour package covering various cities like Delhi, Bikaner, Mandwa, Jodhpur, Udaipur, Jaisalmer, Ranakpur, Pushkar, Agra and Chittorgarh.
Vacation Style Holiday Type
All about the Rajasthan with Pushkar Fair.
Date: November 15 – 23, 2018
Duration: 14 Nights / 15 Days
Location: Delhi – Bikaner – Mandawa – Jodhpur – Udaipur – Jaisalmer – Rankpur – Pushkar – Agra –  Chitogarh
Pushkar fair offers a wonderful glimpse of the rich culture, tradition, rural lifestyle, traditional folk dance and handicrafts of Rajasthan. The colorful and lively celebrations just amaze the tourists. You can marvel the vivid colors of Rajasthani culture by visiting the Pushkar fair through our 15 days and 14 nights tour package. Moreover, you can also visit the splendid monuments, forts and havelis of various prominent cities like Jaipur, Mandawa, Bikaner, Jaisalmer, Jodhpur and Udaipur. The package has been thoughtfully designed to offer you a stress-free tour by taking care of all your requirements ranging from accommodation to commutation. So, give us an opportunity to be your travel guide for a mesmerizing and enjoyable trip.
Pushkar Camel fair is a grand event in Rajasthan cherished with life oozing activities such as cultural and musical events, thrilling camel safari tours and a stay in the traditional camps making you feel like a local. Pushkar fair is an experience of a lifetime that hovers on the mind of the travelers and leaves them craving for even more. Visiting Pushkar fair is a chance to please your hunger with delectable Rajasthani dishes cooked with rich Indian spices. Being a religious destination, one may find only vegetarian dishes served in this fair. Pushkar Fair is a great occasion to take a plunge into the blessings of divinity and attain the everlasting nirvana.
The tour package Mapping at a glance
Day 1

Arrive Delhi

When you reach Delhi there will be one of our company professional to receive you. Post this you are transferred to your hotel for an overnight stay.On arrival, our representative will welcome you at the airport for your transfer to the hotel. Overnight at hotel.

Day 2

Delhi

After breakfast, proceed to places of interest in Delhi. You will begin with a visit to Raj Ghat – the cremation ground of Mahatma Gandhi, also known as, Father of the Nation, as well as, President's Palace, the historical India Gate, Sikh Temple and Akshardham Temple. In the afternoon, you visit the 73 meter tall Qutub Minar, an architectural brilliance which was built around 1500 A.D by Qutub-ud-Din Aibek – a slave turned monarch and Humayun's tomb ; the first garden-tomb on the Indian subcontinent. Overnight at hotel

Day 3

Delhi – Mandawa (256 Kms / 06 hours)

After breakfast, leave for Mandawa and check in your hotel. In the afternoon, explore Mandawa ; this small 18th-century settlement is still a pleasant base for your haveli explorations.In the evening, you visit the famed arched gateway embellished with the image of Lord Krishna and cows as well as exploring the bazaar (market place) for local trinkets.

Day 4

Mandawa - Bikaner (190 Kms / 04 hours)

After breakfast, drive to Bikaner and check-in at the hotel. Established by RoaBikaji in the year 1488, Bikaner is a vibrant, dust-swirling desert town with a fabulous fort and an energising outpost feel. Transfer to Junagarh Fort, established between the years 1593 to 1588, by King Jai Singh, who was a reputed general in the army of Emperor Akhbar. Overnight at hotel.

Day 5

Bikaner - Jaisalmer (330 Kms / 06 hours)

After breakfast, drive to Jaisalmer, also known as "Golden City".The stunning Jaisalmer Fort, is one of the popular sites and has many tales to narrate about chivalry and the valour of the Rajput rulers. The narrow streets of the old city conceal magnificent havelis, all carved from the same golden-honey sandstone as the fort – hence Jaisalmer's designation as the Golden City. Overnight at hotel.

Day 6

Jaisalmer

After breakfast, you will start the morning by exploring the striking merchant houses as well as the Havelis, which are all decorated exquisitely and carved out of golden sandstone. The Patwon-ki-haveli is the biggest palace in Jaisalmer. Nathmalji-ki-haveli, an eminent name amidst the well-known Havelis, is worth a visit. Also, visit the Gadisar Lake. Return to your hotel for an overnight hotel stay.

Day 7

Jaisalmer -Jodhpur (285 Kms / 05 hours)

After breakfast, you will drive to Jodhpur. After check in at the hotel, our guide will take you on a tour of Mighty Mehrangarh, the muscular fort that towers over the Blue City of Jodhpur, & is a magnificent spectacle + an architectural masterpiece. In the evening, visit the city of Jodhpur also known as Blue City as many houses are painted in blue! Overnight at your hotel.

Day 8

Jodhpur -Udaipur (250 Kms / 05 hours)

After breakfast, you will drive to Udaipur en-route Ranakpur, to visit world famous Jain Temple known for its magnificent architecture . Over 1444 marble pillars carved in exquisite details support the temple. The beauty is that each pillar is different from each other! Overnight in the hotel.

Day 9

Udaipur

After breakfast, visit Udaipur, also known as the Venice of the East and the "City of Lakes". Proceed for city tour which includes City Palace and Jagdish Temple. Then, drive around Fatehsagar Lake and Sahelion Ki Bari (Garden of the maidens). In the evening, you will go for a boat cruise in lake Pichola which is surrounded by splendid hills, palaces, and temples. Make sure you have your camera ready! Overnight at the hotel

Day 10

Udaipur-Pushkar (300 Kms / 5.5 hours)

After breakfast, you will leave for Pushkar; a town in Rajasthan which curls around a holy lake, said to have appeared when Lord Brahma dropped a lotus flower. You will visit the old, rustic temples of Pushkar, specially the Brahma Temple and stroll along the ghats of Pushkar lake. Camel safaris are also present. Overnight at the hotel.

Day 11

Pushkar

After breakfast, you will join in the celebrations of the Pushkar Fair ; a colorful festival at Pushkar fair ground. You will experience classical music, folk dances and animal race competitions, which include Nagauri bullock, horses and camels. Other competitions include Indian bride, Tilak , turban tying and many more. In the evening, transfer to the hotel for an overnight stay.

Day 12

Pushkar - Jaipur (145 kms / 3 hours)

After breakfast, you will drive to Jaipur. On arrival at Jaipur, check into the hotel. You have rest of the day free at your leisure & rest. Overnight at the hotel.

Day 13

Jaipur

After breakfast, visit Amber Fort, located outside Jaipur on top of a hill. But don't worry, you don't have to strain your calves, you can take an elephant ride and move up the hillock to reach the fort! The fort reflects the essence of Mughal families and took 100 years to complete! So you know it's a marvel not to miss. In the afternoon, we explore the "Pink City" i.e. Jaipur including City Palace ; the present home for Maharaja, though the palace is open for public visits. There are several artifacts and antiques that even include a collection of weapons. You can also visit HawaMahal and Jantar Mantar, where you can have a glimpse of astronomical instruments. In the evening, we visit the vibrant bazaar and then return to hotel for an overnight stay.

Day 14

Jaipur - Agra (235 Kms / 04 hours)

After breakfast, drive to Agra en route visit Fatehpur Sikri ,which was once the Mughal capital. A red sandstone secluded city, Fatehpur Sikri, was constructed by King Akbar as the capital city back in 16the century. You will see the Buland Darwaza, which is the biggest gateway all over the world! After, we resume our journey towards Agra & check in at the hotel.

Day 15

Agra - Delhi (233 Km / 04 hours)

After breakfast at the hotel, you will drive to Taj Mahal – a world renowned Monument of love and a UNESCO world heritage site. Taj was built by Shah Jahan, one of the most popular Mughal emperors. Next, you will be accompanied to Agra Fort ; Mughal emperor Akbar's brainchild that employed 4000 workers and took 8 years! In the later half, you drive to Delhi. Our representative will meet you and assist you to the IGI airport to help board your flight for your onwards journey.